Tuesday, February 9, 2016 @ 8:51 AM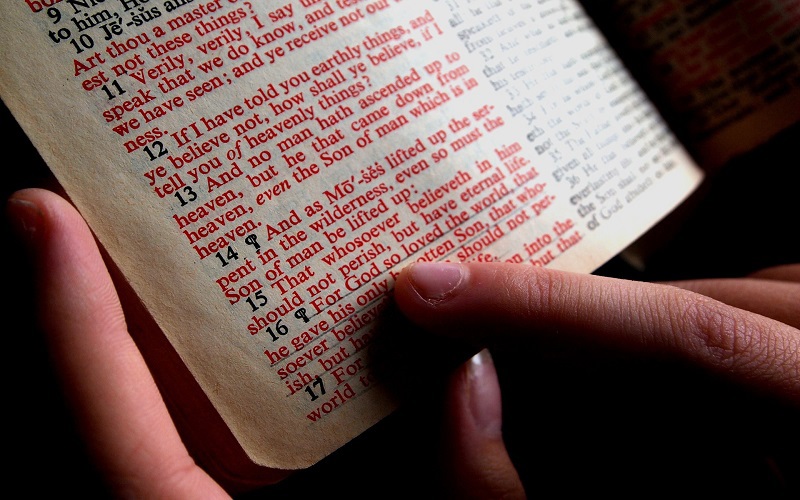 ATTENTION: Major social media outlets are finding ways to block the conservative/evangelical viewpoint. Click here for daily electronic delivery of The Stand's Daily Digest - the day's top blogs from AFA.
Jeremy Wiggins
Producer/Talk Radio
MORE
The Word of God is a profound gift for many reasons.  Most importantly, the Word was given that we might know God. 
There are two areas of our lives that allow us to acquaint ourselves with our God, and those are prayer and His Word.  Interestingly, these are also the two areas where Christians allow daily distractions to interfere with the most, with 61% of Americans wishing they read the Bible more. 
Barna has revealed some interesting statistics about Bible reading in the last couple of years: 
-The number of those who are skeptical or agnostic toward the Bible—who believe that the Bible is "just another book of teachings written by men that contains stories and advice"—has nearly doubled from 10% to 19% in just three years. This is now equal to the number of people who are Bible engaged—who read the Bible at least four times a week and believe it is the actual or inspired Word of God. 
There are more and more people claiming to be skeptical or agnostic towards the Word of God, and there are probably many reasons to explain this phenomenon. Two reasons primarily come to mind.  First, people are probably just being more honest about their views. Think about the fact that so many in America claim to be "Christians" but don't believe that the Bible is the Word of God, or that Jesus is the only way to be reconciled to God, or that reconciliation is even necessary. In all likelihood, more people just stopped trying to be deceitful and were willing to report they just don't believe. Another explanation could be that we who are Christians may not be doing our fair share of faithful study and proper exegesis leading to poor explanations and interpretations of Scripture. 
-While the percentage of Americans who believe the Bible is sacred has fallen in recent years, from 86% in 2011 to 79% in 2014, it's still a sizable majority of all adults. In general, Americans continue to view the Bible very positively. More than half of Americans (56%) are "pro-Bible"—meaning they believe the Bible is the actual or inspired word of God with no errors. 
I fail to understand how a person could believe the Bible is the "actual or inspired word of God with no errors" and not allow that book to influence their lives in some way or another.  Since more than half of the population believes what is in the Bible we should be able to end abortion and recognize Biblical marriage for what it is, being between one man and one woman. 
-Among those who say their Bible reading decreased in the last year, the number-one reason was busyness: 40% report being too busy with life's responsibilities (job, family, etc.), an increase of seven points from just one year ago. 
Here's where we enter into one of the big issues, and that's time dedicated to reading the Bible. Here is also where I am, as Paul says in 1 Timothy 1:15, the chief of sinners. I have allowed everything from being tired, to playing with kids, to watching movies, to going to the gym.  I shouldn't allow my excuses to interfere with finding out who God is, and how He expects me to worship Him. 
-While the majority of people still come to the Scriptures to connect with God, their number is shrinking, from 64% in 2011 to 56% in 2014. Today, people are increasingly likely to come to the Bible for more pragmatic needs. 
The Bible should be used for all of our needs. 
From an apologetics standpoint, the case can be made that we cannot respond to the critic's complaints about the Bible if we ourselves don't know what is in the Bible.
From a political standpoint, the case can be made that the reason we have so many different candidates that evangelicals are divided over because they are either unwilling to view a candidate through the lens of Scripture.
From a social standpoint, we wouldn't be arguing over marriage, abortion, immigrants, religious freedom, or even how we treat each other if we knew what was in the Bible. 
Because of these, and many other reasons, we must make searching the Scriptures and seeking God a priority in our lives again. From a biblical standpoint, the Bible itself makes the case for the necessity of reading Scripture. 
Hebrews 4:12 -For the word of God is alive and active. Sharper than any double-edged sword, it penetrates even to dividing soul and spirit, joints and marrow; it judges the thoughts and attitudes of the heart. 
2 Timothy 3:16-17 - All Scripture is God-breathed and is useful for teaching, rebuking, correcting and training in righteousness, so that the servant of God may be thoroughly equipped for every good work. 
Deuteronomy 8:3 - He humbled you, causing you to hunger and then feeding you with manna, which neither you nor your ancestors had known, to teach you that man does not live on bread alone but on every word that comes from the mouth of the Lord. 
Proverbs 2:6 – For the Lord gives wisdom; from his mouth come knowledge and understanding. 
These are just a few of the things the Bible says about itself. 
The Word of God is either what it claims to be or it isn't. Either it is entirely the inspired Word of God, infallible, wholly accurate, containing the wisdom and knowledge God has revealed to us, or it is nothing more than a collection of historic sounding fairy tales. Everyone must make a choice in this regard, but let's not kid ourselves with trying to claim only portions of Scripture or discrediting one book over the other. It is either what it claims to be or it isn't. Period. 
If it is the Word of God, then the implications for our lives are staggering. It must be examined, meditated on, cross-referenced, prayed over, and discussed, regularly.  Disregarding the Bible is analogous to spiritual suicide. 
Walking faithfully in Christ illumined by the word of God (Psalm 119:105) enables us to both learn about and love Him who has created, redeemed, and sustained us.  
As we continue our journey in the Christian life, it is through the Scriptures where we learn more and more about this God who has created us, sustained us, and redeemed us, and in the Scriptures is where our time and our trust need to gravitate, now more than ever.
Please Note: We moderate all reader comments, usually within 24 hours of posting (longer on weekends). Please limit your comment to 300 words or less and ensure it addresses the content. Comments that contain a link (URL), an inordinate number of words in ALL CAPS, rude remarks directed at the author or other readers, or profanity/vulgarity will not be approved.