Tuesday, April 26, 2016 @ 1:19 PM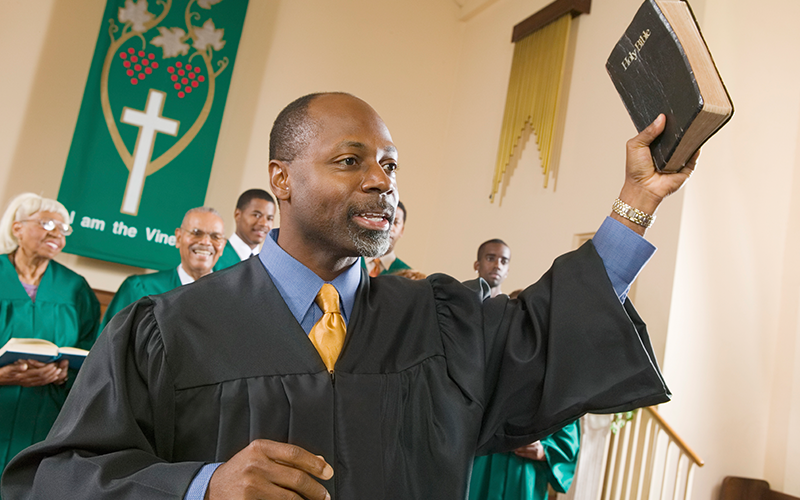 ATTENTION: Major social media outlets are finding ways to block the conservative/evangelical viewpoint. Click here for daily electronic delivery of The Stand's Daily Digest - the day's top blogs from AFA.
Jim Shempert
One Million Dads
MORE
"Not many of you should become teachers, my fellow believers, because you know that we who teach will be judged more strictly. (James 3:1)"
That's a verse I learned early on in my Christian walk.  I struggled with it when I was contemplating entering the ministry.  It's a verse that I gauge all who stand behind the pulpit to preach.  I'm not judging. I'm saying what the Bible says about a difference in the level of critique of someone who preaches on behalf of God.  When you claim to be the mouthpiece of God, your level of responsibility is much higher than those who are merely listening.
I am blessed to have many preacher friends of varying denominations.  I love to learn from them, their experiences, and their personal walk.  I listen to sermons on Sermon Audio.  I read sermons that are posted in various places online.  I sympathize with my brothers and sisters in the pulpit.  It is a great and heavy burden to be in charge of a flock.  It's an even greater burden to know that you will be held to a higher standard because of your position.
Most of the preachers I know are greatly rooted in their faith.  They defend the Word of God with strict adherence. They believe that the Bible is the authentic and inerrant Word of God.  To violate its principles and commands is a direct violation of their covenant with God. 
Unfortunately, as with all things in America, it's not the majority who gets noticed, but the vocally narcissistic minority.  It has become a popular thing in today's culture for members of the media to seek out a member of this minority (especially if they are members of the clergy) for an interview. It matters not that the overwhelming majority disagrees based on the Word; only that a few twist Scripture to advance their personal agenda (popularity?).  Jesus had something to say about these:
"Watch out for false prophets. They come to you in sheep's clothing, but inwardly they are ferocious wolves. By their fruit you will recognize them. Do people pick grapes from thornbushes, or figs from thistles? Likewise, every good tree bears good fruit, but a bad tree bears bad fruit. A good tree cannot bear bad fruit, and a bad tree cannot bear good fruit. Every tree that does not bear good fruit is cut down and thrown into the fire. Thus, by their fruit you will recognize them. (Matthew 7:15-20)"
Jesus was very specific.  We all stand guilty of sin before God and all deserve punishment.  Jesus is the only chance any of us has to be spared an eternity apart from God (which is torment).  However, He was also very clear that not everyone would accept Him.  Jesus cannot be the sin ransom for man while also endorsing any sin that man finds himself committing.  To preach anything else is apostasy.  Jesus was pretty specific on that too:  ""If anyone causes one of these little ones--those who believe in me--to stumble, it would be better for them to have a large millstone hung around their neck and to be drowned in the depths of the sea. (Matthew 18:6)"
Heavy words for pastors.  Now, I have some for "the Church." Your pastor has absolutely nothing to do with your salvation.  Nothing.  Christ is looking for a personal relationship with you.  Sure, your pastor is supposed to guide and direct the flock, to teach and preach.  However, when it comes down to brass tacks, your pastor is no more responsible for your relationship with Christ than you are for his/hers.   Jesus did not die for pastors only, He died for each one of us specifically. 
Second Corinthians 5:10 reads, "For we must all appear before the judgment seat of Christ, so that each of us may receive what is due us for the things done while in the body, whether good or bad."  Not your pastor.  Not your wife.  We must ALL appear before Christ.  Salvation is offered to us all, but we must individually accept Christ as our Savior.  To refuse is to invite damnation.
I am not condemning corporate worship.  Christians have always been in the community building business.  Since the days of Acts, we have gathered in groups to worship.  We are not, however, called to worship the group, we are called to worship the Christ that died for that group.  If your corporate worship reflects the world, more than it does the Scripture, I suggest a brush up on Romans 12:2.
In the end, it is not our pastor, our bishops, elders, deacons, etc., who will stand before Jesus.  If you believe what the Bible teaches (and if you don't I'm not sure why you would call yourself a Christian), you realize that Christ is our ultimate Judge.  Whether you believe what the Word says or not, you will be judged by it.  Denying Christ, whether it be by unbelief or by changing Scripture and calling sin good, ends the same way.
I pray that all will seek Christ more and more each day.  I hope that those who would choose to call themselves Christians will actually seek to know the Christ that they proclaim to follow.  I pray also, that all realize how much of a personal claim that Christ has on our lives.  It's not up to your pastor, it's up to you.
"If your Christianity depends upon a pastor's preaching, then you're a long way from being where you should be."  A. W. Tozer
Please Note: We moderate all reader comments, usually within 24 hours of posting (longer on weekends). Please limit your comment to 300 words or less and ensure it addresses the content. Comments that contain a link (URL), an inordinate number of words in ALL CAPS, rude remarks directed at the author or other readers, or profanity/vulgarity will not be approved.