Monday, July 18, 2016 @ 1:16 PM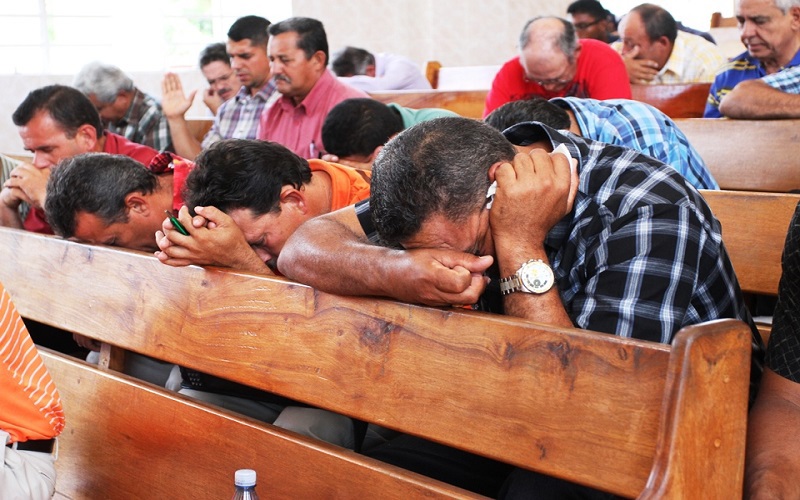 ATTENTION: Major social media outlets are finding ways to block the conservative/evangelical viewpoint. Click here for daily electronic delivery of The Stand's Daily Digest - the day's top blogs from AFA.
Dr. John Neihof
President of Wesley Biblical Seminary - Guest Blogger
MORE
Freedom. Patriotism. Liberty. 
I grew up in a community that celebrated faith and freedom. Patriotic programs were frequent events. Each was marked with historical references to the biblical values that underpin the United States of America. National freedom was theologically connected to biblical liberty, bought for us with the blood of Jesus Christ, to set us free from the bondage to sin and death. Patriotism, duty, and freedom to worship were co-mingled in a soul-stirring religious context of loyalty to God and country. My eyes grew misty at the sight of the flag. A lump formed in my throat at the sound of "The Star-Spangled Banner." 
As the tide of public opinion, lifestyle, and government has shifted against the church over the past 50 years, I have developed an ever-increasing angst about celebration of my country. I believe that we have less and less virtue to celebrate. 
As Peter led "The Way" in its infancy he expressed the same tension that I feel. Perhaps you feel it too. Empowered with boldness by the baptism of the Holy Spirit. In and out of jail for the name of Jesus. Preaching in the temple area. Met by cheers and jeers. Peter held firmly to His Lord and Christ's toddling church, stumbling, falling, but always getting up until it strode with a bold and decisive step. Peter felt the tension of loyalty to God or country, and reached a decisive conclusion. 
"We ought to obey God rather than men." (Acts 5:29) 
Later in life, Peter was facing the full force of a blood-thirsty Roman Empire that was scapegoating the church with rumor and innuendo, killing Christians for sport, and depriving believers of economic power and influence. All the while, Christ's church grew. Peter insisted that Christians made the best citizens, especially in a hostile environment. 
"Therefore submit yourselves to every ordinance of man for the Lord's sake… For this is the will of God, that by doing good you may put to silence the ignorance of foolish men—as free, yet not using liberty as a cloak for vice, but as bondservants of God. Honor all people. Love the brotherhood. Fear God. Honor the king." (I Peter 2:13-17) 
That is precisely the tension with which I live.  Do I submit to God or country? If I "ought to obey God rather than men" and simultaneously submit to "every ordinance of man," I am faced with an impossible contradiction. But Peter added a phrase to his mandate of submission to government: "For the Lord's sake." Peter was teaching a brand new group of Christians how to live with tension, and always keep Jesus first. 
These concerns and questions have driven me back to the Word of God. Scripture teaches that history is moving, not in circles, but in direction—linearity. The Bible teaches that time is proceeding to some great culmination—the Kingdom of God.  This Kingdom of God is both already, and not yet. 
"Jesus answered, 'My kingdom is not of this world." (John 18:38) 
Jesus understood the tension. He calls us to stand between this world's kingdoms and His coming one, and live between the tension. 
The church has always been at its best when it lives with this tension. When the tide of government, national opinion, and political pressure is against the church, we grow. In the first three centuries of the church, the Body of Christ expanded rapidly. Christianity was illegal. Christians died as martyrs for their faith. The early church father, Tertullian, proclaimed, "The blood of the martyrs is the seed of the church." 
So, we engage warfare, not as the world wars, but as the Church of Jesus Christ wars. We fight with prayer, witnessing, love, acts of mercy, and civil disobedience when necessary. We fight evil, oppression, sin, injustice, and exploitation of the weak and powerless. We press the battle with faith, knowing that Jesus will be victor and we shall reign with Him forever. 
"For though we walk in the flesh, we do not war according to the flesh." (2 Corinthians 10:2) 
We are citizens, not simply of our country of residence, but of a country that is yet to come. 
"Therefore, since we are receiving a kingdom which cannot be shaken, let us have grace, by which we may serve God acceptably with reverence and godly fear." (Hebrews 12:28) 
In the words of our Lord Jesus: 
"Your kingdom come. Your will be done On earth as it is in heaven." 
On Sunday, July 3rd, our church choir sang "The Star-Spangled Banner."  It had been years since my eyes misted and my skin tingled with patriotism.  I wiped tears that day. A chord of love for God and country was stirred in my heart. At the same time, I felt a certain wistfulness about the biblical values and Godly principles our nation has lost. 
I reviewed the lyrics of our national anthem, written by Francis Scott Key in 1814 as he watched the bombing of Fort McHenry. My eyes were drawn to the often overlooked fourth stanza. Suddenly, I realized that I am not alone in living with tension. Our nation is built upon this very tension. 
O thus be it ever when freemen shall stand
Between their lov'd home and the war's desolation!
Blest with vict'ry and peace may the heav'n rescued land
Praise the power that hath made and preserv'd us a nation!
Then conquer we must, when our cause it is just,
And this be our motto - "In God is our trust,"
And the star-spangled banner in triumph shall wave
O'er the land of the free and the home of the brave. 
So, I live with tension. I am a citizen of the United States of America, and I look for another country that is yet to come, of which I am already a citizen—the Kingdom of God. Meanwhile, I am called to submit to government unless and until conscience forbids obedience to government as its edicts stand in direct contradiction with the Divine mandate as revealed in sacred scripture. My ultimate allegiance belongs to Jesus Christ, and to Him alone. When the tension builds in my heart and my life, I have no question as to where my devotion lies.
Please Note: We moderate all reader comments, usually within 24 hours of posting (longer on weekends). Please limit your comment to 300 words or less and ensure it addresses the content. Comments that contain a link (URL), an inordinate number of words in ALL CAPS, rude remarks directed at the author or other readers, or profanity/vulgarity will not be approved.