Friday, September 16, 2016 @ 9:41 AM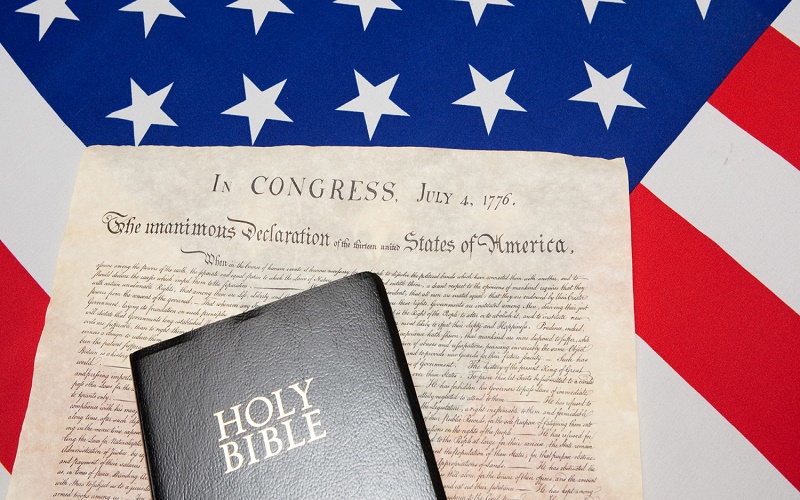 ATTENTION: Major social media outlets are finding ways to block the conservative/evangelical viewpoint. Click here for daily electronic delivery of The Stand's Daily Digest - the day's top blogs from AFA.
Dr. John Neihof
President of Wesley Biblical Seminary - Guest Blogger
MORE
Our secular culture often espouses the notions: "Don't mix politics and religion" and  "Keep your faith to yourself."  The clear message is that religion is a private affair.  Politics is a public affair.  Business is a public affair.  "Keep the controversy of your private religious opinions to yourself!" 
These attitudes have brought many to verbal blows!  We are accused of fighting over our "guns and our religion!"   
Government says that marriage is a matter of the civil state, and we, as Christians, say that marriage is ordained by God.  Government says that the unborn do not need the protection of the state, we say that the unborn are known by God, and must be protected by our biblical moral imperative to preserve life. 
Government rules, ordinances, laws, and regulations often provide restrictions we, as believers, find chafing.  We object.  We may even protest.  When we bring our faith into the public arena, the secular culture calls us "Bible thumpers!"  "Don't mix religion and politics!" gets hurled in our faces.   
In the New Testament, Paul calls Titus to teach the Cretan Christians to be good citizens.  
"Remind them to be subject to rulers and authorities, to obey, to be ready for every good work, to speak evil of no one, to be peaceable, gentle, showing all humility to all men" (Titus 3:1-2). 
Citizenship. That's a familiar concept to the older Americans. There was a time in public education when citizenship was a high school course! 
American culture made a shift away from citizenship to consumerism. This shift started in the 20th century. Pre-WWII was shackled in the Great Depression.  On December 7, 1941, Japan bombed Pearl Harbor. The next day, President Franklin Delano Roosevelt declared war on Japan.  Jobless American men were rapidly inducted into the military. American women were welcomed into the labor force to provide support services for the war effort. 
At the end of the war, the "boys," as the soldiers were called, came home.  Many American women patriotically left the workplace, and returned home, leaving a place for the veterans to be employed.  Marriages between the returning soldiers and the "girl next door" were quick. By 1946 a rash of babies were being born. That "baby boom" continued until the early 1960's. 
Post war prosperity began to boom across America. Television was a brand new technology in the late 1940's. By 1959, 98% of Americans had a TV in their homes. Product advertising mushroomed. New, time-saving products flooded the market. Incomes rose, unemployment plummeted, and prosperity reigned. 
Gradually, over the next few decades, the definition of a good American seemed to shift from being a good citizen to becoming a consumer.  Good Americans were no longer defined by their citizenship. Good Americans made money and bought stuff. Good Americans consumed American products. And they did it all on credit! 
In the 1970's I saw a bumper sticker that said, "Be American, Buy American." The subscript at the bottom of the bumper sticker read, "Made in Japan."  
As the American economy began to expand, it became obvious that the economy depended upon spending rather than saving.  After the 9-11 attack on the New York City World Trade Center, President George Bush seemed to encourage Americans to spend money in order to protect the economy as an act of patriotism.  "'I ask your continued participation and confidence in the American economy,' Bush said in an address to the nation on Sept. 20, 2001" (Did President Bush Really Tell Americans to 'Go Shopping' After 9/11? by Tom Murse, http://usgovinfo.about.com).   
Upon hearing President Bush's remarks, I knew that the age of citizenship was dead and the new age of the American as consumer held complete sway. 
Here's the question: Does citizenship still matter?  Are you a good citizen?  More specifically, are we as Christians, called to Christian citizenship?  Are you a good Christian citizen? 
Paul calls Titus to model Christian citizenship.  Christian citizenship reaches beyond national boundaries and ethnic and cultural identities.  Paul seems to tell Titus that Christian citizenship is characterized by obeying the law, servanthood, careful speech, Christian kindness, gentleness, and cultural transformation. 
John Wesley, the founder of Methodism, held tremendous influence over one of his converts, William Wilberforce. Wesley was counting on Wilberforce's influence in the British Parliament to end the British participation in slavery, once and for all. Wilberforce's influence did precisely that in 1807. 
Wesley's last letter to Wilberforce called him to Christian citizenship. The force of Wesley's challenge to Wilberforce as a call to transform a culture for Christ. 
Balam, February 24, 1791 
Dear Sir: 
Unless the divine power has raised you us to be as Athanasius contra mundum, I see not how you can go through your glorious enterprise in opposing that execrable villainy which is the scandal of religion, of England, and of human nature. Unless God has raised you up for this very thing, you will be worn out by the opposition of men and devils. But if God be for you, who can be against you? Are all of them together stronger than God? O be not weary of well doing! Go on, in the name of God and in the power of his might, till even American slavery (the vilest that ever saw the sun) shall vanish away before it. 
Reading this morning a tract wrote by a poor African, I was particularly struck by that circumstance that a man who has a black skin, being wronged or outraged by a white man, can have no redress; it being a "law" in our colonies that the oath of a black against a white goes for nothing. What villainy is this? 
That he who has guided you from youth up may continue to strengthen you in this and all things, is the prayer of, dear sir, 
Your affectionate servant,
John Wesley 
If we practice Christian citizenship, the world won't know what to do with us.  If we resort to worldly methods of anger, fighting, uncivil speech, raging words, and hate, we compromise our message with fleshly methods.  The world knows how to fight that way. And they are better at it than we are! We must use spiritual weapons, not carnal ones. We must do "the good work" of transforming our culture for Christ! 
"For the weapons of our warfare are not carnal but mighty in God for pulling down strongholds." (II Corinthians 10:4).
Please Note: We moderate all reader comments, usually within 24 hours of posting (longer on weekends). Please limit your comment to 300 words or less and ensure it addresses the content. Comments that contain a link (URL), an inordinate number of words in ALL CAPS, rude remarks directed at the author or other readers, or profanity/vulgarity will not be approved.