Thursday, November 3, 2016 @ 1:34 PM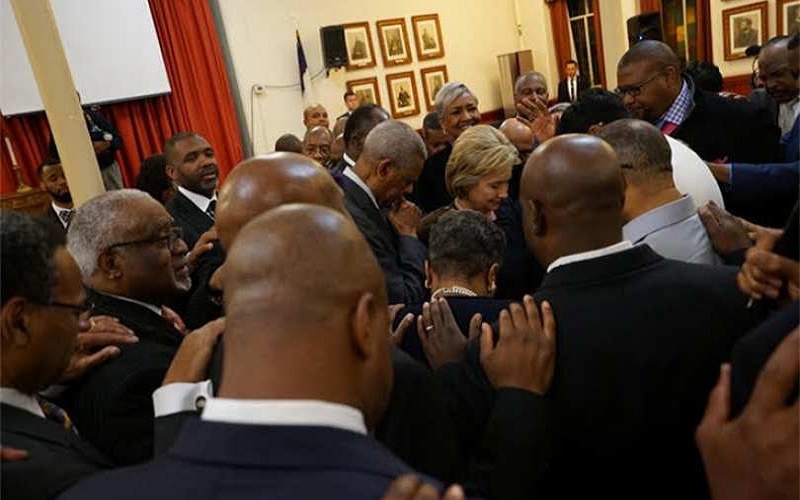 ATTENTION: Major social media outlets are finding ways to block the conservative/evangelical viewpoint. Click here for daily electronic delivery of The Stand's Daily Digest - the day's top blogs from AFA.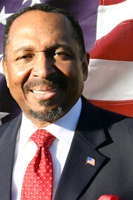 Bishop E.W. Jackson
President of STAND Foundation, Inc./Radio Host
MORE
A RESPONSE TO THE OPEN LETTER TO HILLARY CLINTON REGARDING RELIGIOUS FREEDOM FOR BLACK AMERICA
Dear Brothers and Sisters:
Greetings in the name of our Lord and Savior Jesus Christ. I have read your open letter to Hillary Clinton and since I have taken a leadership role in trying to awaken black Christians to the demonic stronghold the Democrat Party has over our community, I feel obligated, indeed called by God to comment on your missive.
First, I commend you all for your willingness to say something, anything about the pressing moral and social issues of our day, particularly those affecting the black community. All too many of us are silent in the face of social upheaval. I am reminded of Jesus' admonition, "So then, because you are lukewarm, and neither cold nor hot, I will vomit you out of My mouth. Would that you were hot or cold…." [Rev.3:16] We undoubtedly disagree on certain issues and approaches, but at least we are in the debate.
Secondly, it is encouraging that while you raise the issue of police brutality, you do not make the fatal error of many black leaders. You do not ignore the scourge of black on black crime which is killing thousands every year at disproportionate numbers from any other intra-ethnic violence. The reality is that the number of black people killed in police confrontations pales in significance to the number who die on our streets – including innocent women and children – at the hands of black criminals. I congratulate you because many who claim to be the intellectual elite of our community refuse to discuss this. They are so captivated by the racism paradigm, that they cannot see the bodies piling up right in front of them. We know that the ultimate cause behind the violence and murder is sin and Satan. Focusing on the flesh, i.e., the racial element, will never solve the problem because that is a symptom, but definitely not the disease.
As your letter indicates and I have said many times, Bible believing Christians, black and white, are in fundamental agreement on the moral and social issues affecting society. We agree on societal sin, but do not necessarily agree on the solutions.
I would like to offer an ongoing dialogue with members of my ministerial organization – MINISTERS TAKING A STAND. The problems of our community will not be solved by sniping at each other from across the ideological fence. We need to come together around biblical principles that unite us.
That brings me to my first criticism of your letter to Hillary. In the first paragraph you say, "we, clergy and intellectuals who serve the poor, Democrats and independents, appeal to you." Do I understand that you have no Republicans in your churches? I can assure you that you do. They may be in the closet because of the hatred they are likely to feel from their "fellow Christians" and the accusations leveled at them as "traitors" and "sellouts." By refusing to acknowledge them you are perpetuating an ungodly attitude toward black Americans who identify as Republicans. How can you allow that when they are the very people who cannot reconcile themselves to the wrongs of the Democrat Party that you yourselves point out – e.g., disregarding the lives of unborn children and arrogantly redefining marriage in direct defiance of God. Your silence implies that God blesses membership in the Democrat Party in spite of its utter moral bankruptcy. Or perhaps you mean to convey your own approval of the Democrat Party and disapproval of the Republican Party. Either way, God will not bless sin and you should not bless it either. We should encourage our members to think biblically, not racially. If they compare the platforms of the two parties, they have more affinity for Republican principles. They need deliverance from the stronghold Democrats have over black voters. God called us to set the captives free, not polish the shackles.
The second concern I have with your letter is that as some of the most influential black leaders in America you approach Mrs. Clinton as if you answer to her. You answer to God. In fact the biblical order is that prophets of God hold political leaders accountable, not the other way around. Too often men and women of God go hat-in-hand to elected and appointed leaders begging their indulgence. They should be coming to us, begging the blessing of God and asking how to obtain it. However, long years of abdication of our prophetic responsibility have made that scenario highly unlikely. Your letter does nothing to restore the proper order. It reinforces precisely the wrong order.
Finally, and this is the most devastating aspect of your letter, in spite of the critique you offer of the condition of the black community and the incongruity of the Democrat Party platform with the values of the black church, you tacitly endorse the person who personifies the very things you oppose. Your closing words suggest no demands. It is as if you all are mere bystanders to one of the most consequential elections in the history of our country.
"We request that you set a place and time, during your first 100 days in office, where we may meet to learn more about your position on these issues. Then we will be better able to inform our community about what they can reasonably expect from a Clinton administration."
First, you assume she will be elected, but take no stand one way or the other. You never mention Republicans or Donald Trump so there is implicit endorsement. You imply that for black people there is only the Democrat Party, but you don't say it explicitly.
As to learning more about Hillary's positions, you already know them, certainly on abortion and marriage. You left out support for Israel, by the way. You do not need to learn more. You need to condition your support upon her alignment with God's word. I read some time ago that one of your signatories—Bishop Paul Morton—resigned from and denounced the Democrat Party. That is the kind of courageous leadership our people need right now. If you all provide it, those whom you shepherd will follow.
The word of God says, "For if the trumpet makes an uncertain sound, who will prepare for battle?" [1 Cor. 14:8] It is my hope that you will sound the trumpet so loud that it will wake up those black Christians who are the walking dead in a party that hates the God they claim to love. Remember this is the party that removed any mention of God from their Party Platform. These are the people want to leave "under God" out of the Pledge of Allegiance. They want to leave "our Creator" out of their recitation of the Declaration of Independence. It is time to come out from among them.
The body of Christ desperately needs leadership in this hour, and God will hold us all accountable as under-shepherds for the failure to provide it. Our nation is in the worst moral and spiritual crisis of its history. We need to provide godly leadership and elect godly leadership. We need officials whose hearts are set to seek first the kingdom of God and His righteousness, knowing that everything else we need will be added. I respect the important role all of you serve. I stand ready to unite with you around kingdom principles to awaken our country again to the truth that, "When the righteous are in authority, the people rejoice: but when the wicked beareth rule, the people mourn." [Prov. 29:2]
I hope this is the beginning of an ongoing dialogue. May God guide and bless you and your ministries and may He continue to bless our beloved country—the United States of America.
Yours In Christ,
MINISTERS TAKING A STAND
President and Founder, Bishop E.W. Jackson
(This "Response" first appeared here: http://standamerica.us/a-response-to-the-open-letter-to-hillary-clinton-regarding-religious-freedom-for-black-america/)
Please Note: We moderate all reader comments, usually within 24 hours of posting (longer on weekends). Please limit your comment to 300 words or less and ensure it addresses the content. Comments that contain a link (URL), an inordinate number of words in ALL CAPS, rude remarks directed at the author or other readers, or profanity/vulgarity will not be approved.