Wednesday, February 15, 2017 @ 11:40 AM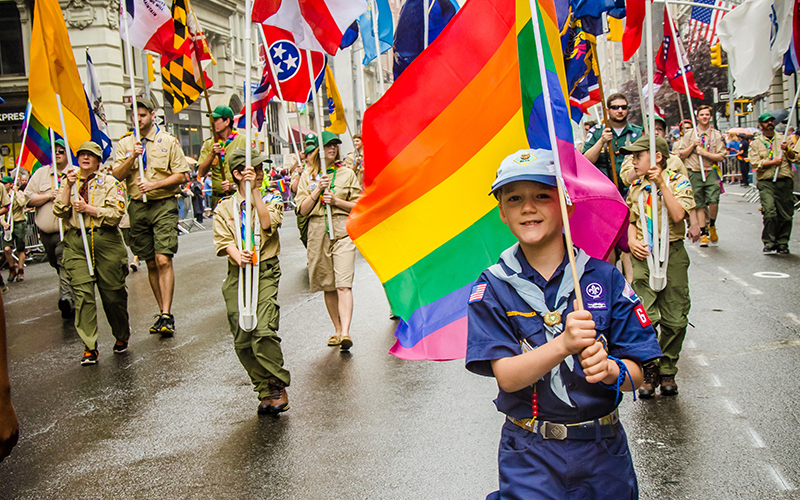 ATTENTION: Major social media outlets are finding ways to block the conservative/evangelical viewpoint. Click here for daily electronic delivery of The Stand's Daily Digest - the day's top blogs from AFA.
Rob Jackson
Author, Speaker, Licensed Professional Counselor
MORE
Transgenderism is the latest storm cloud on our society's horizon, and it has already hit the radar of professionals in the medical and psychological communities. Churches, however, are largely unaware of this threat. I encourage all churches to begin preparing their response proactively before the issue catches them off guard. The good news is the topic of healthy, biblical sexuality as well as the gospel of Christ provides a great opportunity to serve our nation's youth with practical help. 
The approaching transgender storm is already impacting churches that sponsor Boy Scout troops, and it will soon affect youth programs and private church schools across the nation. Last month a Boy Scout troop in New Jersey admitted a 9-year-old transgender youth into its program. Some may ask, "What's the big deal? It's just one child in one troop. Why should we try to control what a secular organization does, anyway?" 
Many Christians will take the familiar head-in-the-sand approach and simply hope or assume it could never happen in their church's troop. But with over 70,000 troops serving more than one million youth in churches throughout America, we can reasonably expect the BSA's recent validation of transgenderism to impact hundreds of churches in the near future. 
The church understands the search for significance 
People on both sides of this issue will agree that establishing a sense of personal significance and identity in this world is difficult. Sexuality, self-identity, self-worth, and being comfortable in one's own skin are significant developmental milestones that impact everyone, regardless of age, gender, race, or belief system. We all need to feel significant, and we seek that feeling in whatever ways are available to us within our life experience. 
Of course, it would be illogical and incorrect for us to expect secular organizations like the BSA or the LGBTQ community to embrace the same biblical standards we affirm as believers. On the other hand, Christians cannot support practices or lifestyles that are contrary to God's Word and damaging to a child's well-being. The rub comes when the local church sponsors the secular organization whose standards violate scriptural principles. 
The idea of separating ourselves from ministry opportunities runs contrary to our mission. How can we hope to reach these children if they are no longer a part of our church's scout program? There is an important distinction, however, between outreach and endorsement. To reach the lost requires engagement, but biblical truth demands we do so without compromise. Lest you think that affirming the sin will lure the sinner to Christ, I exhort you to remember that our best programs become useless when they compromise God's Word. 
Before further discussion of our responsibilities toward children in our churches and communities, I'd like to look at what the scientific community is saying about the effects of transgenderism on children. 
Gender ideology harms children 
In a 2016 paper titled "Gender Ideology Harms Children," the American College of Pediatricians listed eight reasons why treatment based on gender ideology is harmful to children. (You're going to encounter the term gender ideology more in the future. This term normalizes otherwise aberrant sexual behaviors, attitudes, and practices.) The ACP emphasized that treatment of transgenderism must be based on biological facts, not feelings. 
The American College of Pediatricians began their eight points by stating, "Everyone is born with a biological sex," and that self-awareness, including that which pertains to gender, "develops over time and can be 'derailed' by the experiences and information a child receives from infancy forward." 
The pediatricians acknowledged that gender dysphoria is "an objective psychological problem … that lies in the mind, not the body, and it should be treated as such." They concluded that in any case, to deny one's biological sex is "confused thinking." 
In their final, pull-no-punches point, these pediatricians call chemical and surgical treatment of children based on gender ideology child abuse. 
I strongly encourage you to read this article that includes all eight points. 
Transgender persons at greater risk for physical and mental health problems 
Vanderbilt's School of Medicine noted that "transgender persons are at increased risk for certain types of chronic diseases, cancers, and mental health problems," and need screening and treatment where indicated.   
In this article, the School of Medicine listed the following health concerns common to transgender individuals: 
Health risks of using hormone therapy to make a person more masculine or feminine
Serious health problems associated with injectable silicone used to amend appearance
Increased occurrence of substance among transgender individuals
Higher rates of depression and anxiety
Sexual practices among transgendered people produce higher likelihood of STDs
Elevated rates of alcohol abuse and dependence
Use of tobacco products is prevalent within the transgendered community.
Increased hormone use, smoking, and obesity lead to a higher risk for heart disease. 
By validating transgenderism, the Boy Scouts of America are guilty of endangering the spiritual, mental, and physical health of our youth. We must call on them to heed the counsel of the American College of Pediatricians, which "urges educators and legislators to reject all policies that condition children to accept as normal a life of chemical and surgical impersonation of the opposite sex. …" 
So how do we reach out to children while remaining faithful to the principles of God's Word? First, we must consider our responsibility to protect them. The words of Christ in Matthew 18:6 are an important guide: "Whoever causes one of these little ones who believe in me to sin, it would be better for him to have a great millstone fastened around his neck and to be drowned in the depth of the sea." Reaching the unsaved is not an excuse for putting children at risk. We must protect them, even as we "go into all the world" (Mark 16:15) with the gospel. And we must protect them when they enter our churches for programs we sponsor. 
Since the Boy Scouts of America is not an organization that we own and can reform, we have no choice other than to break ties with it. When it comes to meeting the needs of children and youth who suffer from gender dysphoria, there is something they need far more than validation and inclusion into the Boys Scouts. They need genuine compassion and practical helps to establish their worth and identity solidly in Christ. They need to hear us tell our own stories of struggle, redemption, and recovery. They need mature Christians to assure them that God gives them significance and heals wounds of all sizes, shapes, and colors.           
Timeline
2013 - The BSA allows openly gay youth as scouts
2015 - The BSA allows gay troop leaders and employees
2017 - The BSA allows transgender youth as scouts
Please Note: We moderate all reader comments, usually within 24 hours of posting (longer on weekends). Please limit your comment to 300 words or less and ensure it addresses the content. Comments that contain a link (URL), an inordinate number of words in ALL CAPS, rude remarks directed at the author or other readers, or profanity/vulgarity will not be approved.