Friday, May 19, 2017 @ 9:06 AM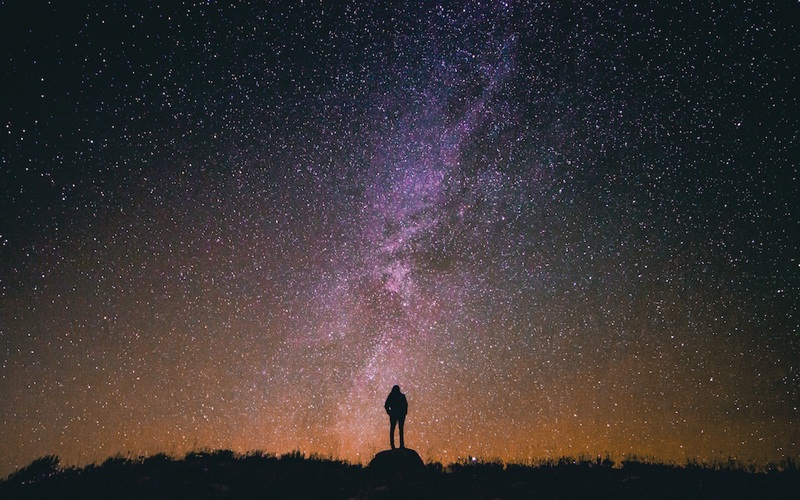 ATTENTION: Major social media outlets are finding ways to block the conservative/evangelical viewpoint. Click here for daily electronic delivery of The Stand's Daily Digest - the day's top blogs from AFA.
Stacy Singh
Writer - AFA Journal
MORE
We just passed May 4, Star Wars Day, the one day out of the year when you get to say, "May the fourth be with you." Perhaps it was not coincidence that on the same day, Facebook was trending Stephen Hawking's dire announcement that we have 100 years to leave earth before our "fragile" planet falls apart – or causes humans to fall apart anyway. His directive: colonize a new planet before the human race becomes extinct. 
Now, I'm sure that is all meant to be very scary, but my instantaneous reaction was enthusiasm. Oh yeah, lets explore a new planet! Now, its not that I believe Hawking's prediction is correct, nor that I believe it is even possible to colonize another planet, or that I am overly concerned about any kind of impending doom to the earth or humankind. 
For one thing, the threats he names are asteroid strikes, epidemics, climate change, and population growth – all of which I'm pretty sure the earth has endured before, and we're still here. How does population growth equate to extinction anyway? The two seem to be mutually exclusive. I'm no scientist, but something like a nuclear attack sounds like a more plausible threat to worry about. 
At any rate, I believe the earth will be destroyed one day – at the will of God and in His timing – but that other events must lead up to that day, of which there will be clear signs. When the judgment of the world comes, we will know it by happenings that are more dramatic than the normal cycles of earth and space, and according to prophecies that are more trustworthy than those that come out of the mouth of Stephen Hawking.  
So, I'm not buying the mandate that we have to escape Earth within 100 years. But I do have a taste for imaginations of other worlds – fed over the years by the wonders of Lewis' parallel universe, Narnia; Tolkien's before-our-time Middle Earth; the strange beauty of Lewis' inhabited planets in the Space Trilogy; and the innumerable and indescribably diverse civilizations in Star Wars. 
I may not find it credible to believe that there is truly life beyond earth, but in my dreams I'd walk those strange lands with joy. Yeah, probably there would be a lot of real danger, but I'd be willing to test the boundaries if it meant finding that there is more to life than I'd ever known. I want to believe that there is more – my heart cries against the mundane confines of the small space that I inhabit – and I have to cross those barriers to feed my suffocating soul. 
As a child, it might have been simple things at my feet that filled that void. A perfect leaf; the delicate etching of limbs lifted against a clear sky; the silken feeling of cool grass against my feet; the hard rush of fierce wind against my face. All those things lifted my heart with a strange excitement – I loved the quick-traveling storm, the ever-restless sea, the boundless sky. 
But familiarity breeds contempt, and I scarce notice those things now, or find them an inconvenience – messy and time-consuming. In William Wordsworth's Intimations of Immortality, he talks about how a child's awareness and wonder fades until, as an adult, it is hard to remember or conjure up the same sense of awe. Wordsworth believed that all nature pointed to the greater beauty and goodness of heaven and eternity. Man's search for wonder is a symptom of his yearning for the glory of eternity. 
There was a time when meadow, grove, and stream, the earth, and every common sight, to me did seem appareled in celestial light, the glory and the freshness of a dream, Wordsworth's poem reads. Though inland far we be, our Souls have sight of that immortal sea which brought us hither. 
Wordsworth may not have been qualified as a theologian, but he glances at a truth here. We are searching for some sign of glory. We do feel a little discontent, a little bit like we ought to be able to find something more to life – and perhaps eventually we are let down by what this Earth has to offer because we were not able to find what we hoped for. Maybe we even think it would be a great idea if we could leave to colonize another world and establish a better civilization. 
The Bible says it best: All these people were still living by faith when they died. They did not receive the things promised; they only saw them and welcomed them from a distance, admitting that they were foreigners and strangers on earth. People who say such things show that they are looking for a country of their own. If they had been thinking of the country they had left, they would have had opportunity to return. Instead, they were longing for a better country—a heavenly one (Hebrews 11: 13-16). 
We are longing for another country. We feel not quite at home in this world, because it is not our ultimate and final home. We are "pilgrims and sojourners" passing through on a quest to find another place. We feel like life here is not quite enough, the world does not contain what we are looking for, we ourselves are not what we ought to be – because neither Earth nor humanity is what it was meant to be – it is all fallen. We yearn to behold glory because we were made to worship the Glorious One. 
Fortunately, the Bible has the solution. It teaches us "the way" to that which we seek. "I am the way and the truth and the life. No one comes to the Father except through me" (1 John 14:6). It reveals that our home is in fact prepared for us. "My Father's house has many rooms; if that were not so, would I have told you that I am going there to prepare a place for you?" (John 14:2-3). And it even offers fulfillment for our restless dilemma while we are here on earth. It tells us that glory came to earth – Jesus Christ, God With Us, and He does not "leave us as orphans" (John 14:16-19). We find our home, our satisfaction, on this Earth when we enter the glory of His presence in worship. 
Please Note: We moderate all reader comments, usually within 24 hours of posting (longer on weekends). Please limit your comment to 300 words or less and ensure it addresses the content. Comments that contain a link (URL), an inordinate number of words in ALL CAPS, rude remarks directed at the author or other readers, or profanity/vulgarity will not be approved.