Tuesday, February 17, 2015 @ 10:59 AM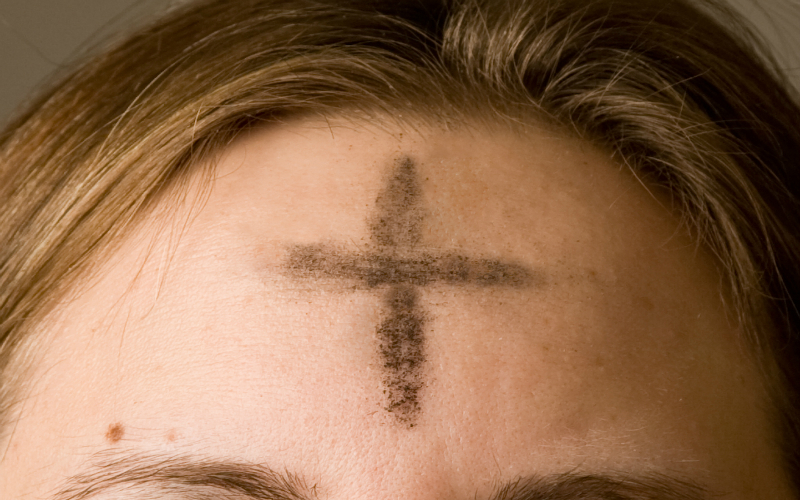 ATTENTION: Major social media outlets are finding ways to block the conservative/evangelical viewpoint. Click here for daily electronic delivery of The Stand's Daily Digest - the day's top blogs from AFA.
Jim Shempert
Chief Information Officer
MORE
Before I accepted Christ, I can remember a particular instance walking through Walmart and seeing black smudges on people's faces.  It was on a Wednesday night, and these people were dressed in "good clothes."   It wasn't like they had been gardening and rubbed dirt on their faces.  It looked like ash.  I grew up in the South, so walking up to someone and saying, "Hey, you got something on your face" was not an option.  It violated any social grace that you could conjure up.  However, it did make me wonder about what these people were doing that they would wear ash on their faces out in public.
So first, let's talk about what Ash Wednesday is.  Ash Wednesday is a day of remembrance and fasting that occurs exactly 46 days before Easter.  A simple explanation is that Christ spent 40 days in the desert being tempted by the devil, and there are 6 Sundays in that time, which are not considered days of fasting, thus 46 days. The funny thing about that is, it all depends on when Easter is that determines where Ash Wednesday falls.  Many, but not all Western Christian denominations observe Ash Wednesday.  Those include the Catholics, Lutherans, Methodists, Anglicans, and Presbyterians.  There are differing observances between all these (that is my way of saying, there's no right way, or wrong way to observe Ash Wednesday). For disclosure purposes, I am a Methodist.
It is important to note that the season of Lent officially begins with Ash Wednesday.  Lent, is a season of remembrance and preparation.  Many see it as a season of fasting.  And that doesn't just mean food.  In recent years, many Christians have decided to give up something of personal importance to them, to spend that time or effort in drawing closer to Christ.  Usually, you hear particular adherents around this time of year say, "I'm giving up X for Lent." Some abstain from coffee (Lord help!), some stop eating out, some give up Facebook.  All those are fine, as long as you realize that's not the purpose of Lent.  If that helps in your focus, that is great.  Lent though, is remembering this time in the life of Christ, and what that means for the Church. 
So let's talk about those ashes.  The ashes historically come from palm branches that were used the previous year's Palm Sunday celebration.  Let's consult Matthew 21:1-11 for a better explanation:
As they approached Jerusalem and came to Bethphage on the Mount of Olives, Jesus sent two disciples, saying to them, "Go to the village ahead of you, and at once you will find a donkey tied there, with her colt by her. Untie them and bring them to me.  If anyone says anything to you, say that the Lord needs them, and he will send them right away."  This took place to fulfill what was spoken through the prophet:
"Say to Daughter Zion, 'See, your king comes to you, gentle and riding on a donkey, and on a colt, the foal of a donkey.'"
 The disciples went and did as Jesus had instructed them.  They brought the donkey and the colt and placed their cloaks on them for Jesus to sit. A very large crowd spread their cloaks on the road while others cut branches from the trees and spread them on the road.  The crowds that went ahead of him and those that followed shouted, "Hosanna to the Son of David!" "Blessed is he who comes in the name of the Lord!" "Hosanna in the highest heaven!"  When Jesus entered Jerusalem, the whole city was stirred and asked, "Who is this?"  The crowds answered, "This is Jesus, the prophet from Nazareth in Galilee."
The King had come home to His city, and the people cut off tree branches to welcome him.  Awesome!  Some of my preacher friends will privately confide in me that most of the Church now thinks that simple attendance at a worship service weekly is praise enough.  But is there any act of praise that can be enough for One as Holy as Christ?
Let's go back to the ashes for a minute.  Why are the ashes important?  The ashes represent sorrow, mourning, and repentance.  Many times in the Bible, when confronted with their sin or impending doom, people would tear their clothes and cover themselves in ashes.  It was the Facebook status of the day.  A way of saying, I am saddened to the point of death.  Jesus references the practice in Matthew 11:21.  Imagine that, a public confession of sin, and also the confession of the need for God's forgiveness.  It was done in a way to confess, and also to ask for help for one's condition, not to mention asking for God's forgiveness.    What would public confession look like today?  Would we join in, and confess that to which we were guilty? Or would we look down judging self-righteousness noses, at those who would dare feel the overwhelming need to reconcile with God and their community over their sin?  Would we sit in our pews while others fell prostrate on the ground in front of the altar?  Or would we drag our comfortable selves, to the front and say, "God, have mercy on me, a sinner"?  Would we watch the single mother in the second row crying her eyes out during prayer time, and make some judgmental comment.  Or would we leave our pew, and go cry with her?
The Church has been getting a bad rap lately.  Most of the reasons are unjustified.  The world hates the Church and will always throw daggers at it.  One thing the Church does have to remember though is that all of us are guilty of sin.  On a human level, we try to prioritize which sin is worse than the other.  Romans 3 takes the decision-making power out of our hands:
His righteousness is given through faith in Jesus Christ to all who believe. There is no difference between Jew and Gentile, for all have sinned and fall short of the glory of God, and all are justified freely by His grace through the redemption that came by Christ Jesus.  God presented Christ as a sacrifice of atonement, through the shedding of his blood—to be received by faith. He did this to demonstrate his righteousness, because in his forbearance he had left the sins committed beforehand unpunished— He did it to demonstrate His righteousness at the present time, so as to be just and the one who justifies those who have faith in Jesus.
Here is what I know to be true: I know who I was before I accepted Christ.  If it is possible to forgive me, it is possible to forgive anyone.  In my opinion, I think the first and foremost job of anyone within the Church is to point people to Christ.  That's the only way we will ever be able to fulfill the Great Commission.  We must lead them to the fountain that holds the Living Water.  We must point them to who took all the world's sin upon Himself.  We also have to confess, that because of Christ, and only because of Him, are we able to preach/teach with authority.  If Christ is not in us, our efforts will be fruitless.  Christ, through the Holy Spirit, will continue to prune and change anyone who truly has faith in Him.  I am not the judge of anyone's faith, but I do believe that if you come to Christ, and seek to follow Him, there is no way possible to remain the same as when you first approached Him.  I know that to be true in my own life.
Ash Wednesday kicks off Lent.  A season of preparation.  A season of observance.  A season of remembrance of the one act that changed the course of human history forever.  God, in the flesh, crucified as a sacrifice for us all.  Not the ones who go to church every Sunday.  Not the ones who go occasionally.  Not the ones who stay out all hours of the night sinning.  We are all guilty and deserve the judgment of God.  What separates the followers of Christ from the world, is that we accept the free gift of the Father.  We accept the death of His Son in our place.  We accept the fact that without Christ, we are dead.
Entering this season of remembrance, let us do so with humble hearts.  Hearts that remember when we were so far from God.  Hearts that remember the moment that we received the Love of Christ for the first time.  Then, let us reach out to those around us, and with a loving hand, point them to the One who has made all things new.  Then we can approach His altar and say, "Forgive me Lord, a sinner," only to hear Him say, "I already have…"
Please Note: We moderate all reader comments, usually within 24 hours of posting (longer on weekends). Please limit your comment to 300 words or less and ensure it addresses the content. Comments that contain a link (URL), an inordinate number of words in ALL CAPS, rude remarks directed at the author or other readers, or profanity/vulgarity will not be approved.