Thursday, August 29, 2019 @ 01:12 PM
ATTENTION: Major social media outlets are finding ways to block the conservative/evangelical viewpoint. Click here for daily electronic delivery of The Stand's Daily Digest - the day's top blogs from AFA.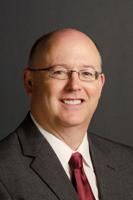 Dr. Robert Youngblood
Assistant Digital Media Editor
MORE
"His breathing's changed," I said. 
With those three urgent words, whether half or fully asleep, we all jumped to our feet as if our seats and sofas had been wired to fire electricity as if a general had entered the room to address the troops.
Except for Dad. 
He had been struggling to breathe but was not in pain.  I had been sitting by his bed, holding his hand, and noticing the rhythm. 
As we stood around Dad's bed his breathing stopped. 
For some, the tears came easily, and some had been flowing already.  For others, they were held back, yet still pushed through.  The nurses came into the room.  One listened to his heart.  Then another listened. 
At 1:03 a.m. Saturday morning, Dad was declared dead.  This part of his game was over. 
The hurricane of life
Shortly after they prepped Dad and let us back in the room, I remember all the hospital sounds being gone.  The silence startled me.  Beeps, blood pressure pumps, suctioning sounds, and Dad's efforts to talk? 
Activity had become absence.   
Initially, the absence felt like numbness.  It wasn't.  Instead, it was the stillness and silence – the kind I too easily neglect in life.  Souls long for these times if they have the strength to sit with them.  They are the times our finite physical beings can touch and sometimes swim in the infinite eternal.
After some brief sleep for the living, yes, there was some numbness.  It was held back by a whirlwind of activity – funeral home, a history for the obituary, phone calls, texts, and more. 
Within these storms of activity, another moment of silence would emerge and become the eye of the storm in the hurricane of life.  The reality of eternity's implications show clearest and brightest in these moments of silence and stillness.
Game over?
Sunday morning, when I got the local paper, I was looking for the Obituary Section.  I didn't find it in the part I thought it would be in – the Lifestyles Section.  I flipped through and saw it in the Sports Section instead.
Maybe they should've called it 'Game Over' instead of 'Obituaries' I thought.  How many still wonder, 'What's next?' or 'How do I know I've won?'
Winning or losing what?  Most people, according to polls, have spiritual beliefs about some sort of afterlife.  So apparently the winning or the losing is about the quality of this afterlife – heaven or hell. 
Where would you go?  And why?  If you were wrong, wouldn't you want to find out before the game is over in this journey? 
Before you're done reading here, you'll get three steps to know with certainty the right path to your best life after this one – the one that matters most.  But only you can choose to travel it, and if you do, you will not be alone.
Some may think this prattle to pacify the weak-minded, the fearful, and the fools.  I too once had doubts. 
If you are there, if you read through the second step and act on what I share in the privacy of your heart, then I know you will be amazed at the gifts given on this side of life so you can truly decide if this narrow path is one you want to travel. 
I admire people willing to question something so important, and because of that, let me share this important question about our spiritual afterlife:    
What's the one thing I need to know and do, such that by doing I can secure the best afterlife possible?  And if it means part or all of this side of life might be harder, is it worth it?
If you're willing to explore this, then here's your first step: number your days.
Number your days
"So teach us to number our days that we may get a heart of wisdom."
Psalm 90:12 (ESV)
Unlike a football game with four quarters or baseball with nine innings, we don't know when our time is over.  The average life of someone in the U.S. is 79 years, and Dad would've been 80 this year.  But my wife lost her mom at the age of 49.  I lost a friend to drowning when I was in the ninth grade.
By numbering our days, we know each breath is precious. 
We think each moment becomes an opportunity for gaining or losing points compared to others.  Most I have talked to say, "I'm better than ___________ because _________, so I should go to heaven." 
Then I heard Ravi Zacharias' thoughts on this in Let My People Think.  This type of point system eventually leads to only one person ending up in hell – the one person who cannot say he is better than someone else in some form, shape, or fashion.  It creates a false belief in which heaven becomes a participation reward for everybody no matter what they do, except that one person.
Intuitively sensing the problems with this, some rationalize instead, "I've done more good than bad," which keeps the score on a self-competing basis.  The standard for winning is somehow you've got to have the ability to legitimately claim victory. 
The Bible says there is one physical death and after that a judgment.  Hebrews 9:27 says, "And just as it is appointed for man to die once, and after that comes judgment …"
We don't get to judge our score in this game against others or ourselves.  So this leads us to the next step, seek.
Seek
"Seek the Lord while he may be found; call upon him while he is near,
let the wicked forsake his way, and the unrighteous man his thoughts;
let him return to the Lord, that he may have compassion on him,
and to our God, for he will abundantly pardon."
Isaiah 55:6-7 (ESV)
The brevity of life is captured in James 4:14 (ESV), which says, "Yet you do not know what tomorrow will bring.  What is your life?  For you are a mist that appears for a little time and vanishes."  Other versions use the word "vapor." 
When I was in my 20's I wasn't sure whether I believed in this Jesus or God or what I had heard about other religions and philosophies. 
But the whirlwind of events of life came together in a moment of silence and stillness which led to a prayer where I began to see and better experience the full presence of a God who desires to forgive through the loving work of Jesus. 
Those events included believing I would die before turning 25, seeing a woman shoot and kill her live-in boyfriend one block off Martin Luther King Jr. Drive, seeing a young soldier trying to kill himself by tossing an industrial floor buffer out of a second-story window with its cord wrapped around his neck (he survived), and losing more of those I loved.
I knew I had to seek while I still had time. 
Perhaps you should do the same.
Be honest and adapt this prayer to what you're dealing with or concerned about.  As Max Lucado wrote once, "Don't worry about having the right words; worry more about having the right heart.  It's not eloquence he seeks, just honesty."
The prayer was something like:
God, I feel silly praying to something I don't even know is real.  All this seems pretty crazy, but apparently you care for us, want to save us.  I don't know if Hell is real, and supposedly Jesus died and rose again to save me from it?  I remember somewhere it says you know us better than we do ourselves—that you know our hearts better than we do.  If you really care, if you really want this, then give me what I need to know both in my heart and my head that you are real so I can follow you.  Amen
The first thing God brought into my life, something which suited my analytical tendencies and desire to know, was A Ready Defense, a book by Josh McDowell.  Later, He used an organic chemistry professor named Dr. Wierengo to share some of the scientific bases to question things like evolution versus creation.  The third prominent thing God used during this seeking stage included radio programs from Grace to You and a book by John MacArthur called The Gospel According to Jesus.  And obviously, I was reading the Bible along the way.
Others I know have prayed similar prayers, but the common factor is a genuineness in seeking to know the truth.  How will God answer this in your life after you pray it? 
Remember this prayer isn't about gathering information just to have info.  It is about gathering information so you can take the third step which can change your eternity.  That step is:  counting the cost and deciding. 
Counting the Cost and Deciding
"Whoever does not bear his own cross and come after me cannot be my disciple."
Luke 14:27
Life is not easy and hasn't been, according to the Bible, from the time Adam and Eve got booted from Eden. 
Their game had one rule in order to maintain a full relationship with God.  Their rule? 
Genesis 2:17 (ESV), "but of the tree of the knowledge of good and evil you shall not eat, for in the day that you eat of it, you will surely die."
Life is not easy, but God is faithful and willing to save us, to restore that relationship. 
Saved?  Saved from what?  Saved from the consequence of our sins against God.  Saved from judgment condemning us to hell for an eternity of torment.
This won't be popular, but pray and ask God if it is true because your place in eternity depends on it:  After we pass into eternity after our last physical breath and this life's game is over, God is the enemy of sinners and the friend of repenters.
Hebrews 10:31 says it is a fearful thing to fall into the hands of the Living God.  Luke 12:5 says, "But I will show you whom you should fear:  Fear the One who, after you have been killed, has power to throw you into hell.  Yes, I tell you, fear Him!"  Then in Ezekiel 18:4 (ESV) God shares all souls are his to do with as He pleases.
Sin is not tolerated by God's holiness.  People may talk about loving the sinner and hating the sin, but it is the sinner which God casts into the darkness where there will be eternal torment, weeping, and gnashing of teeth. 
Repenting is agreeing with God about your sin, even if it feels like you are struggling to the point of death with it.  Repenting is turning away from sin and turning back to God like Isaiah 55:6-7 discusses. 
Repenting is turning to God so he can blot out your sin and restore the relationship again (Acts 3:19).
Your sin might feel as difficult as the cross Jesus carried.  What should you do?
Take it up (Luke 14:27; Psalm 55:22)
Give it up (Hebrews 12:1-2; Matthew 16:24)
Live it up as a new creation in Christ (2 Corinthians 5:17; Psalm 37:5) 
I promise you that I have NEVER regretted obeying God (through the Holy Spirit and the direction of His Word, the Bible).  I have regretted not obeying Him soon enough.  Today is the day of salvation, if only you repent.
Don't listen to those who want to justify and rationalize behaviors and lifestyles the Bible clearly calls sin.  Do not let your soul be led to the fires as they tickle the ears of the foolish who follow them. 
You are treasured by God so much he sent Jesus to rescue and redeem the relationship.  He paid the cost for those who turn to Him.
God does not desire you to perish as a sinner against His commandments (2 Peter 3:9) but provides Jesus as the way, the life, and the truth so you can obey after your repentance (Matthew 3:8).  Jesus' crucifixion and resurrection become the work which saves as Jesus takes the full punishment of your sins so you don't have to suffer.  Instead, you can rejoice, and the angels of heaven will rejoice in your repentance (Luke 15:10).
Winning the Real Game
"The end of the matter; all has been heard. 
Fear God and keep his commandments, for this is the whole duty of man."
Ecclesiastes 12: 13 (ESV)
Throughout life, God offers us moments of silence and stillness so we can know He is God.  We can use those to seek, to count the cost, and finally to decide about a question found within Matthew 22:36-46 (KJV):
What think ye of Christ?
Since Romans 3:23 tells us all have sinned, then all face the judgment of hell without the work of Jesus.  The laws of God, His commandments, require judgment for breaking them.  As Billy Graham once said, "What you do with Christ here and now decides where you shall spend eternity."  John 1:17 says, "For the Law was given through Moses; grace and truth came through Jesus Christ."
Until your last breath, God offers hope, even to those prodigals who feel there is no way God would welcome them back. 
Surely the presence of God is around all of us during each breath of our lives.  There is victory in Jesus where we have a blessed assurance His work saves us.  The victory, the hope is in the fact of Jesus and because he lives.
Sometimes it seems like God is hidden in life. 
What if I told you I "hid" the titles of four songs which were sung or played at Dad's funeral just two paragraphs ago?  You could call me a liar or you could seek to find out if it's true.  Stay with me a second, or even that could be a whirlwind of activity, a competing spectacle against the importance of your eternity.  (You will find their names if you keep reading.)
How can finite beings like us understand the infinite?  Too often we hold a bucket of ocean water and think we understand the ocean. 
The prayer I shared in the Seek Section asks for God's help in a way related to His unique understanding of each of us.  It relies less on our current understandings of who we think God is and who we think we are.  It is humbly praying to the great "I am" versus a god we think we know.  God loves honest seekers.
Oh, what a friend we have in Jesus if we only surrender and repent before our last breath.
(Editor's Note:  For those who are ready to acknowledge the work of Jesus to save you from the judgment of your sins while restoring the relationship with God, please visit either PeacewithGod.net or NeedHim.org.  Both sites have a presentation of the Gospel along with a prayer you should pray, plus a chat site.  The first site even has a follow-up course to help you grow in strength and peace as a new Christian.  The hidden songs were:  "Surely the Presence," "Victory in Jesus," "Blessed Assurance," and "Because He Lives."  A fifth song title appeared in the last sentence:  "What a Friend We Have in Jesus."  Special thanks for suggestions for this article go to Randall Murphree, Bert Harper, and Matthew White.)
Please Note: We moderate all reader comments, usually within 24 hours of posting (longer on weekends). Please limit your comment to 300 words or less and ensure it addresses the content. Comments that contain a link (URL), an inordinate number of words in ALL CAPS, rude remarks directed at the author or other readers, or profanity/vulgarity will not be approved.