Monday, August 3, 2015 @ 10:00 AM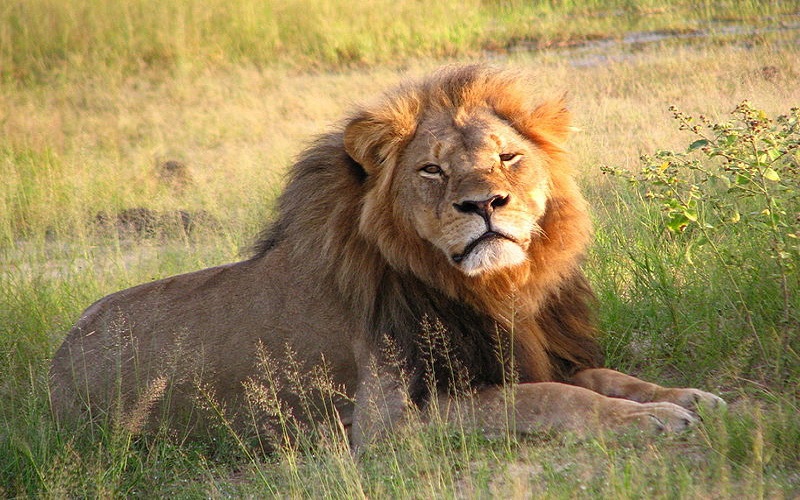 ATTENTION: Major social media outlets are finding ways to block the conservative/evangelical viewpoint. Click here for daily electronic delivery of The Stand's Daily Digest - the day's top blogs from AFA.
Jim Shempert
One Million Dads
MORE
In Hwange National Park, there once was a lion named Cecil.  He was in a word, exquisite.  A beautiful creation of God.  For the 13 years he roamed Zimbabwe, he was a testament to the awe-inspiring creative power of God.  Regal.  Elegant.  Beautiful.
Lions are often used to illustrate strength, royalty, power.  Lions are the top of the food chain until humans step in. Cecil's mane makes one think of Aslan from the great work of C.S. Lewis.  As with anything beautiful, someone will always be jealous of it, and seek to destroy it, to make their ugly selves look a bit prettier.  I really don't see the point in the killing of Cecil.  I won't be going down the "hunting is evil" route because I live in the South and we eat of the land often.  If there was some threat of the hunter being killed, I would be ok with it.  But Cecil was in a natural park, just doing what lions do.  Napping, eating, occasionally roaring.  He was, in a word, innocent. 
The killing of Cecil was wrong even though the gazelle he ate the night before his demise might tend to disagree.
While we are talking about right and wrong, though, let's talk about Planned Parenthood.  This makes my third blog on Planned Parenthood.  The first reason is because I am vehemently opposed to abortion.  The second because, our biased corrupt media has covered Cecil the Lion ad-nauseam but spoken not a word about the Planned Parenthood videos.  To that, I call you all cowards.  Lastly because, our elected representatives have become the types that caused tea to be thrown into Boston harbor in 1773.  You too are cowards.  Actually, you give "coward" a bad name.  Our representatives have no intestinal fortitude whatsoever.  Half of Congress has already gone home for the summer, with the other half scheduled to go today or tomorrow.  When such a tragic massacre is happening, the ones who could stop it, sit on their hands, collect their fat checks, and look at the "little people" who elected them as if they are strangers.
Let me describe something else beautiful to you.  The first time you hear a heartbeat on a sonogram.  You know there is a life growing in your wife's belly.  She knows it because she can feel the movement.  But, the first time you hear that heartbeat, it is the most beautiful sound in the world.    I cried like a baby when I heard my daughter's heartbeat for the first time.  To quote 1 Samuel 1:27, "For this child I prayed; and the LORD hath given me my petition which I asked of Him."
Children are a beautiful creation of God.  From the moment of conception their very development cries out to the majesty of our Heavenly Father.  The way they develop: the way their heads, arms, eyes, and lungs grow is a testament to a Creator that has a far better plan than we could ever have.  It is also a testament to the life that is in that child.  The life that is given to them by God. 
Jesus says in Matthew 19:14, "Suffer little children, and forbid them not, to come unto me: for of such is the kingdom of heaven."  Children are the very essence of the Kingdom of Heaven because of the innocence that makes them children. 
So, when a Planned Parenthood employee extracts the body of a living child from its mother with forceps killing him/her in the process, that is murder.  Not choice.  Murder.  You are a murderer.  If you defend anything Planned Parenthood does, you are an accomplice to murder. 
Then, if that is not bad enough, to perform that murder in a "delicate way" so as to secure their parts for sale, is beyond murder.  It is evil. 
God is not silent on this.  And God, is not ignorant of these actions, the perpetrators, or its defenders.  What God is also aware of, is those who do nothing, and, therefore, allow this holocaust to continue. 
Liberal Americans love to come after guns when there is a shooting.  The biggest killing of Americans is not done with a gun, but by forceps and vacuum tubes. 
If you do not stand against Planned Parenthood, if you don't burn the phone lines up to your Congressional representatives and demand that they stop this Holocaust, you are complicit in the ongoing slaughter of innocents. 
Many weep for Cecil, but who is weeping for the three thousand children that will be murdered today under the lie of choice?
Shed tears, but make sure you are shedding them for the right reason. 
Please Note: We moderate all reader comments, usually within 24 hours of posting (longer on weekends). Please limit your comment to 300 words or less and ensure it addresses the content. Comments that contain a link (URL), an inordinate number of words in ALL CAPS, rude remarks directed at the author or other readers, or profanity/vulgarity will not be approved.