Friday, September 18, 2015 @ 9:28 AM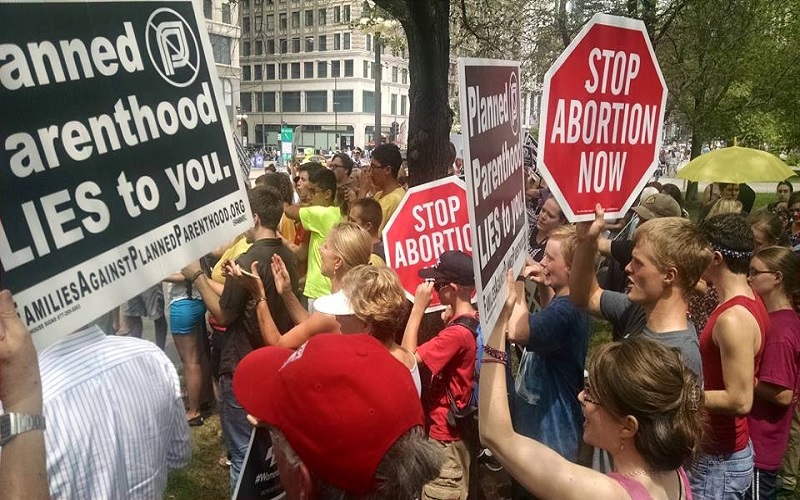 ATTENTION: Major social media outlets are finding ways to block the conservative/evangelical viewpoint. Click here for daily electronic delivery of The Stand's Daily Digest - the day's top blogs from AFA.
Jeremy Wiggins
Producer/Talk Radio
MORE
A new video has surfaced from the Center for Medical Progress in which several executives from Planned Parenthood and their affiliates are discussing the sale of baby body parts. The federal law, specifically 42 U.S.C 289g-2, states that a violation could possibly carry a penalty of up to 10 years in prison and a fine of up to $500,000. While Planned Parenthood argues that they don't sell the parts, they donate them, it brings up the thought that this group literally gets away with murder. And this isn't the only federal law they appear to violate.  According to the videos from CMP, they have violated the Born Alive Infants Protection Act as well. 
The Born Alive Infants Protection Act on the surface seems like a good thing. It states that any baby who survives the abortion process must receive medical attention to the point that doctors must do everything they can to stabilize the health of the child and then care for the child in the same manner they would care for a child in any other situation. 
This is the same bill that President Obama, then Senator Obama, was steadfastly against. Here are his remarks: 
"Now, if — if you think that there are possibilities that doctors would not do that, then maybe this bill makes sense, but I — I suspect and my impression is, is that the Medical Society suspects as well that doctors feel that they would be under that obligation, that they would already be making these determinations and that, essentially, adding a — an additional doctor who then has to be called in an emergency situation to come in and make these assessments is really designed simply to burden the original decision of the woman and the physician to induce labor and perform an abortion. Now, if that's the case – and –and I know that some of us feel very strongly one way or another on that issue – that's fine, but I think it's important to understand that this issue ultimately is about abortion and not live births. Because if these children are being born alive, I, at least, have confidence that a doctor who is in that room is going to make sure that they're looked after." 
His argument is that doctors would never intentionally bring harm to a baby who survives an abortion and that their ethical and moral code would just kick in and they would do everything in their power to save the "patient." See what I did there? But are doctors who are involved in abortions as morally steadfast as then Senator Obama assumed? The answer is a resounding no. 
Jill Stanek, a nurse at Christ Hospital in Oak Lawn, Illinois, was one of the prominent figures to testify on behalf of infants during the hearings for the Born Alive Infants Protection Act. Here is part of her testimony: 
"Another nurse from Christ Hospital also testified with me in Washington. Allison described walking into the Soiled Utility Room on two separate occasions to find live aborted babies left naked on a scale and the metal counter. I testified about a staff worker who accidentally threw a live aborted baby in the garbage. The baby had been left on the counter of the Soiled Utility Room wrapped in a disposable towel. When my coworker realized what she had done, she started going through the trash to find the baby, and the baby fell out of the towel and onto the floor." 
Other hospitals have now admitted that they commit live birth abortion. It apparently is not a rare form of abortion. But Christ Hospital was the first hospital in the United States to be publicly exposed for committing this form of abortion. 
So now we have a federal law prohibiting this practice. But after the videos from Center for Medical Progress started surfacing, Americans are realizing what we have been saying for years about Planned Parenthood: they don't follow the law.
In an article by Charlie Butts of One News Now, Attorney Anna Paprocki of Americans United for Life raises some serious concerns about the content of the videos: 
"This draws a lot of questions about whether or not these clinics are following federal law, which clearly defines these children who are born after a failed abortion attempt as people who have all rights under federal law," the attorney explains. "So what are these clinics doing if these babies are being potentially born alive?" 
Now if you or I break the law, we get punished. If you break into someone's house, you go to jail. Drive drunk? Jail. Murder someone? Again, jail. So why isn't Planned Parenthood held to the same standards? Frankly, it's because you and I don't donate millions of dollars to political action campaigns to keep the federal government off our backs. 
Unfortunately, the Born Alive Infants Protection Act of 2002 is a paper tiger. It has no teeth. Now, Congress, unwilling to stand up for the rights of the unborn, is trying to score political points for giving this act dentures: 
When the law was under consideration in 2002, criminal penalties had to be dropped from the legislation to get enough votes to pass it. The committees may recommend now that penalties be added. 
So according to this bill, abortion groups like Planned Parenthood can break the law with no consequences whatsoever, while lives that could have been saved end up in soiled utility rooms like the ones described by Stanek. 
This is why abortion needs to abolished completely in America. We have seen time and time again how the government refuses to end the murder of innocent children in the womb, and refuses to end the financing of these murders by you and me. It is time for us to do something about it, once and for all, wholly, and completely.  We must stop relying on bills like this one to do the job, because honestly, they never will, and groups like Planned Parenthood will continue their heinous and despicable practices without being held accountable for their actions. 
Proverbs 24:11 is where I often turn to show that the Bible is completely pro-life: 
Rescue those who are being taken away to death;
    hold back those who are stumbling to the slaughter. 
If you say, "Behold, we did not know this,"
    does not he who weighs the heart perceive it? 
Does not he who keeps watch over your soul know it,
    and will he not repay man according to his work? 
Abortion is a sin issue, and we, as the Church, must attack it with the most powerful weapon on Earth or in heaven: the Gospel. The Gospel rescues, the Gospel saves, the Gospel heals. It is the only thing that will ever truly solve the abortion issue, because, as we have seen time and time again, man is not capable of doing the right thing without it. 
Jeremy Wiggins is the host of In The Trenches heard Saturday mornings from 6-7am CST on AFR TALK. Email him at inthetrenches@afr.net 
Please Note: We moderate all reader comments, usually within 24 hours of posting (longer on weekends). Please limit your comment to 300 words or less and ensure it addresses the content. Comments that contain a link (URL), an inordinate number of words in ALL CAPS, rude remarks directed at the author or other readers, or profanity/vulgarity will not be approved.