Special Message from Tim Wildmon
We are clearly in the midst of great spiritual warfare in our nation. The anti-God forces of secularism are going for the jugular in an unprecedented push to overthrow the Judeo-Christian foundations of America. We cannot – and will not – let that happen. The secular left continues to use mob tactics and lawlessness to intimidate and silence those who defend the Constitution and the principles of biblical righteousness, but AFA remains on the frontlines, resisting the onslaught.
If we waver in that commitment, it won't be simply the adults who suffer – it will be our children and grandchildren. 
But AFA will never waver!  
Please, take a look at AFA's " 2018 Accomplishment Highlights" brochure. I think you will see that we are both battling and building. Like the men of Nehemiah's day, we fight godlessness with a sword in one hand, while rebuilding the foundations of our Republic with a trowel in the other.
If you you've been impacted by the ministries and resources of AFA, we invite you to partner with us by making a year-end gift.  American Family Association is recognized by the IRS as a 501(c)(3) charitable organization. Gifts to AFA are tax deductible as allowed by the law. 
With your generous donation to AFA, I want to send you a copy of this beautifully illustrated, hardbound book. This is the first book in a series of children's books written especially for AFA supporters. We commissioned this series from a talented young writer, Whitney White, herself a long time supporter of our ministry.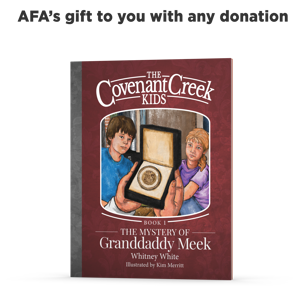 The children in your life will love The Mystery of Granddaddy Meek. It tells the story of a brother and sister who spent part of their summer vacation with their great-grandparents. The treasures they find in an old chest results in deep and abiding lessons about those who have secured for them a godly heritage of life and liberty. The Mystery of Granddaddy Meek, reminds me of my grandparents – and I think it will remind many of yours, too. I will never forget their input into my life. May we never forget the impact of the "Greatest Generation!"
Again, I encourage you to review the enclosed " 2018 Accomplishment Highlights" brochure. I hope you will get the message that AFA is doing more than ever.
For your faithfulness in the past and in the future, you have my deepest gratitude.

---