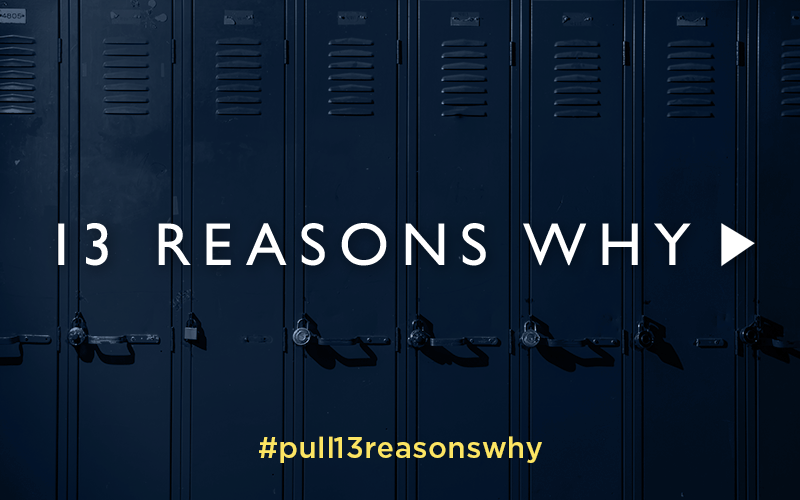 Sign the petition demanding that Netflix pull Season 1 and Season 2 of its original series 13 Reasons Why.
The hugely popular Netflix series has become a lightning rod for critics who say it glorifies suicide and may even make it an attractive option for teenagers who are enduring difficult times in their lives.
Watch the heartbreaking video about Anna Bright, a 14-year-old who committed suicide after binge-watching 13 Reasons Why.
 AFA President Tim Wildmon sent a private letter to Netflix CEO Reed Hastings, respectfully asking for a short meeting to discuss our concerns.
The letter was ignored.
Season 1 was hugely popular. While it was airing last year, the website for Teen Vogue said the series was Netflix's most popular show on social media. 
Netflix recently released Season 2, and it is worse than ever. Full of gratuitous sex scenes including multiple rapes and sexual assaults – one extremely graphic; the acceptance and celebration of homosexuality; pornography; gun violence including a thwarted school shooting, and other unspeakable perversions, Season 2 of 13 Reasons Why is abhorrent.
AFA executive vice president Ed Vitagliano said that the whole series "is a dark and demonic primer for impressionable young people, inviting them to enter a realm of perversion, hatred, and violence that has been birthed in hell itself."
Read the AFA Journal feature about this series and its impact on the family of Anna Bright and others.
Even the mainstream media has publicized the potential dangers of 13 Reasons Why, and some schools here in America and abroad have sent home letters to warn parents about the series.
Those dangers are very real.
Asking Netflix to drop this dangerous series is the right thing to do. Please sign this petition and then share it as a way to warn other friends, family, and church members about the dangers of 13 Reasons Why.
Below are some helpful resources …
 About the show:
"13 Reasons Why, and Its Unintended Consequences" 
"How Far Will the Dark Go … This Time?"
"'13 Reasons Why' to Watch Season 2"
In the news:
"2 California Families Claim '13 Reasons Why' Triggered Teens' Suicides"
"'13 Reasons Why' Slammed by Florida Mom Following Teen Daughter's Suicide Attempt"
"Netflix Cancels Premiere Party for '13 Reasons Why,' Citing Texas School Shooting"
 For parents:
For suicide survivors and those with suicidal thoughts:
Grieving a Suicide: Help for the Aftershock 
I Just Want to Die: Replacing Suicidal Thoughts with Hope 
National Suicide Prevention Lifeline – 1–800–273–8255
Take action:
Call Netflix at 866-579-7172