Tuesday, August 20, 2019 @ 09:28 AM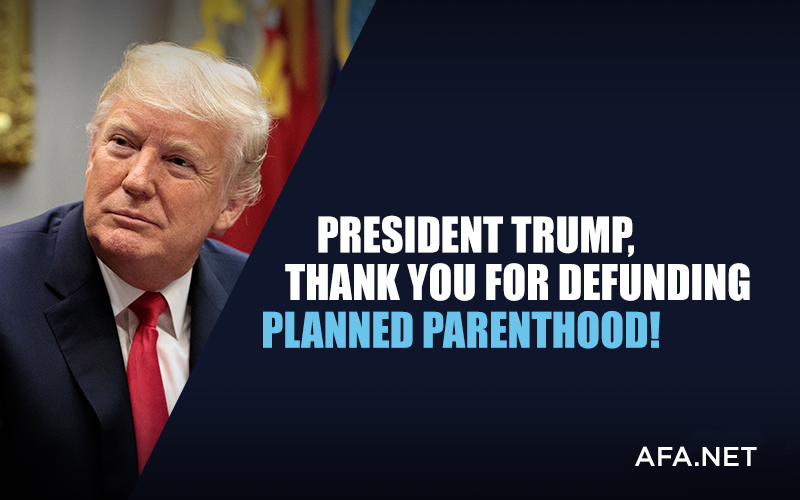 Planned Parenthood no longer receiving Title X funds
Yesterday, Planned Parenthood officially withdrew from the Title X Family Planning Program, giving up as much as $60 million in Title X grants each year, rather than comply with President Trump's Protect Life (Title X) Rule.
For far too long, the nation's largest abortion provider, Planned Parenthood, has had access to your federal tax dollars.
The Trump Administration announced in February a plan to ban Title X grants from going to abortion providers like Planned Parenthood. The new HHS rule requires Title X providers to maintain physical and financial separation from locations which provide abortion as a method of family planning.
Sign the petition thanking President Trump for banning Planned Parenthood from receiving federal grants.
The rule ensures compliance with the statutory prohibition against using Title X funds for programs where abortion is a method of family planning.  It does not reduce Title X funds; it redirects them to providers that do not perform or promote abortions. 
The nation's largest abortion mill continues to receive $400-500 million per year through Medicaid funding. Only Congress can stop it. It's up to Senate leadership, and a majority of pro-life senators, to demand Speaker Pelosi agree to an appropriation bill that bans Planned Parenthood from receiving any Medicaid funding.
Earlier, Planned Parenthood's lawyers sent to the Ninth Circuit Court of Appeals last week indicating that it would withdraw barring emergency judicial relief. The Ninth Circuit declined to hear Planned Parenthood's request for an emergency injunction.
President Trump campaigned on the promise to ban taxpayer funding to abortion providers, and this administrative ruling makes good on that promise.
President Ronald Reagan was the first president to use the office's constitutional authority to ban Title X federal grants to abortion providers. President Bill Clinton reversed this ruling after he was elected. Since Clinton, no president has pushed back against Planned Parenthood like President Trump.
Join us in thanking the President by signing the petition now.